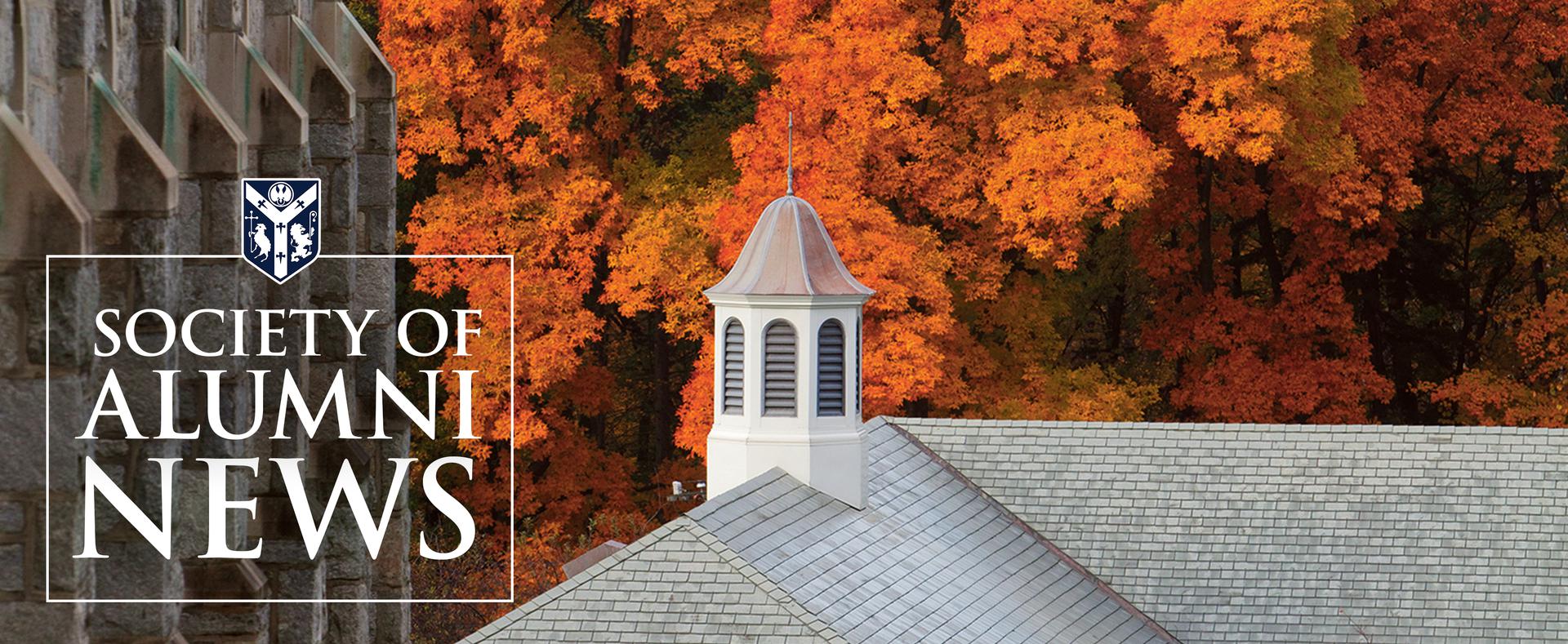 SEPTEMBER 2020
A MESSAGE FROM RICK HENDERSON
Six months ago, we closed our campus and asked our students to remain home and continue their studies online. It truly has been remarkable to see all that we have accomplished since that time, even with the majority of our team working remotely. The untiring efforts of our administration and faculty this summer allowed us to achieve an important goal and our greatest reward—our students are back on the hilltop and Canterbury is in full operation.

A new normal has quickly taken root on campus, with our entire community embracing mask wearing, social distancing, and a wide variety of safety protocols. Our traditional classroom setting is now offered outside in the fresh air and on Adirondack chairs. Fall athletics are practicing, and experienced winter and spring athletes have the opportunity to enhance their skills on Wednesday and Saturday afternoons. School Meeting takes place in Advisor Zoom groups, and meals are shared at tables outfitted with plexi-glass dividers. Yet, amid all the 'differences,' one thing has remained unchanged—the relationships formed on this hilltop are strengthened each day and are nothing less than extraordinary.
SOCIETY OF ALUMNI EXECUTIVE COMMITTEE
Patricia (Sordoni)
Rasmussen '92
Co-President
William "Macy" Steers Jr. '04
Co-President
Victoria (Bundonis) Rovin '81
Vice President
Neil Boylan '79

Danielle (Enage) Conkling '97

Elizabeth L. Dooley '10

Jack Elsas '14

Thomas V. Esposito '80

A. Garvin Hammer '85

George E. Malhame '74

Chrissy Rubin '84

Peter J. Tucker '78

Joanna (Martiska)
Woodworth '77
The return of our students is not the only thing infusing new energy into our campus. In addition to the extensive work completed this summer by our Faculty DEI Committee, the newly-formed Community Diversity, Equity and Inclusion Committee, organized by Head of School Rachel Stone, is beginning to chart the course for the School's enhanced efforts to ensure that all members of the Canterbury family—past, present, and future—feel welcome and empowered by their experiences at the School. The Steers Center is nearing completion (still on track for a fall 2020 opening!) and a new streetscape along Aspetuck Avenue is creating a true sense of arrival. Both sights are generating a palpable excitement on campus and, I have no doubt, will fill you with pride the next time you drive up the Aspetuck hill. Along with the state-of-the-art learning environment the Steers Center will offer, the breathtaking views of the western horizon from inside the building will be a magnificent backdrop for future alumni events. If you have not seen updated photos, I encourage you to visit our website, and once campus is open to visitors, I look forward to providing you a tour.

This issue of Society of Alumni News sets the stage for what will be a pivotal few months for Canterbury. Each day we execute our Fall 2020 Opening Plan, I am reminded of how rewarding it is to work with faculty, students, and alumni who truly love this school. I am confident that we will thrive in this difficult time, for we have demonstrated that we are always stronger together. As I regularly do, I am asking you, our loyal alumni, to stay with us. Please continue to ask questions, voice your ideas, and challenge us to get better. I look forward to our future discussions, alumni DEI forums, fall virtual events, and—when the day comes—having you with us to celebrate on the hilltop.

ROLL SAINTS!

Gratefully,

Rick Henderson
Chief Advancement Officer
SOCIETY OF ALUMNI WELCOMES NEW LEADERS
During the first-ever virtual Society of Alumni Annual Meeting held on June 5, the Society of Alumni (SOA) elected new Co-presidents, Patricia (Sordoni) Rasmussen '92 and William "Macy" Steers Jr. '04, and approved four new Executive Committee members. Their terms began on July 1, 2020. Read more...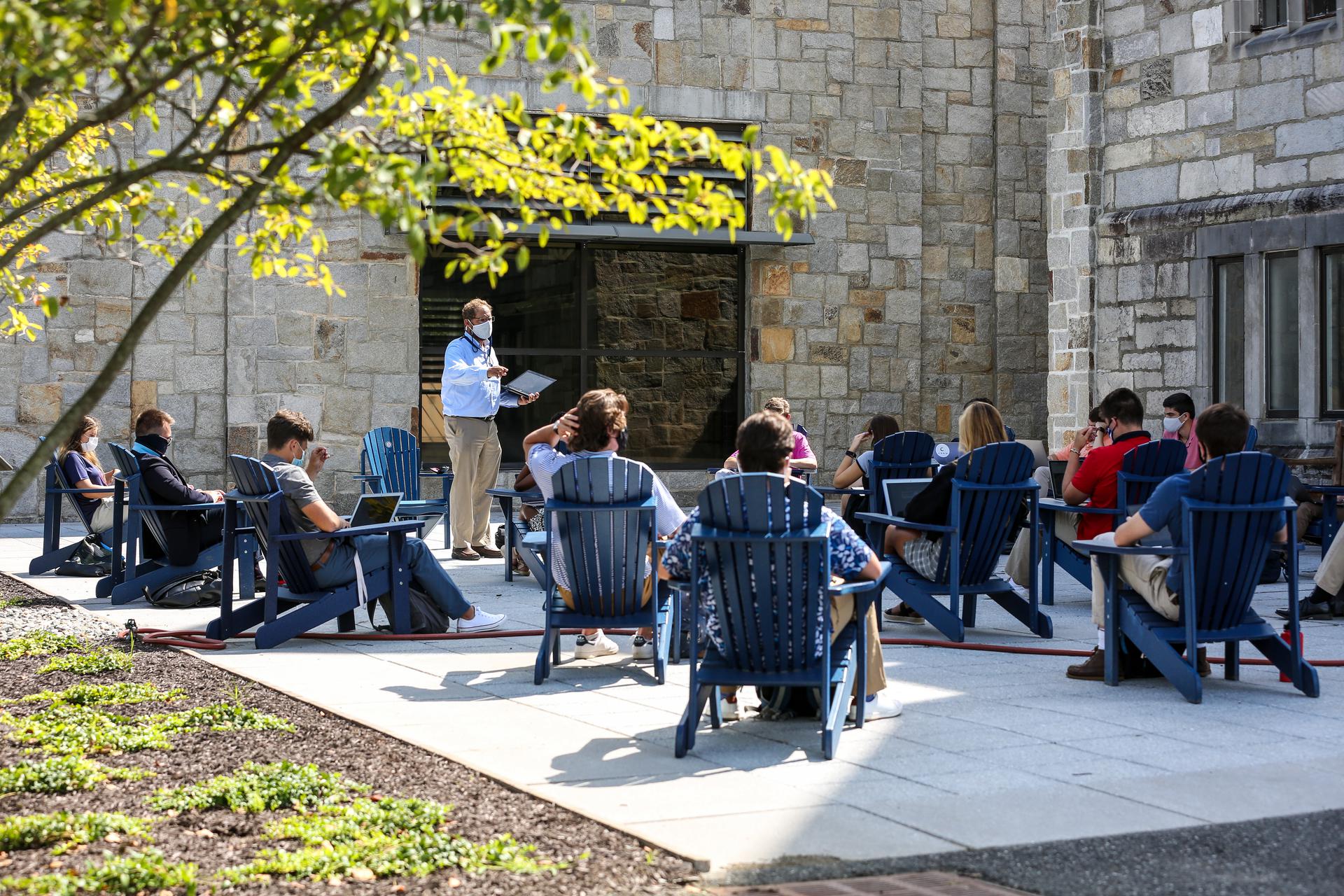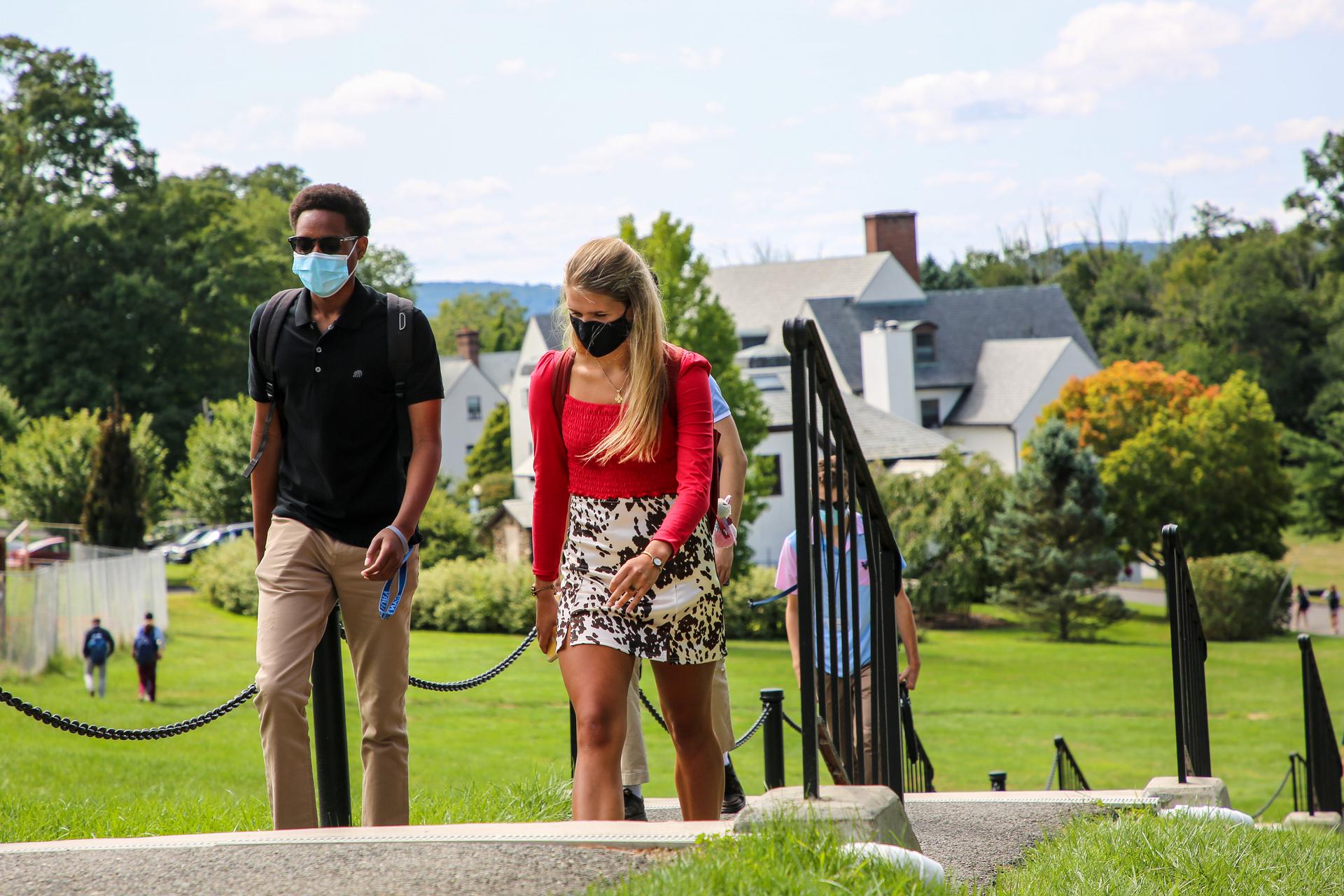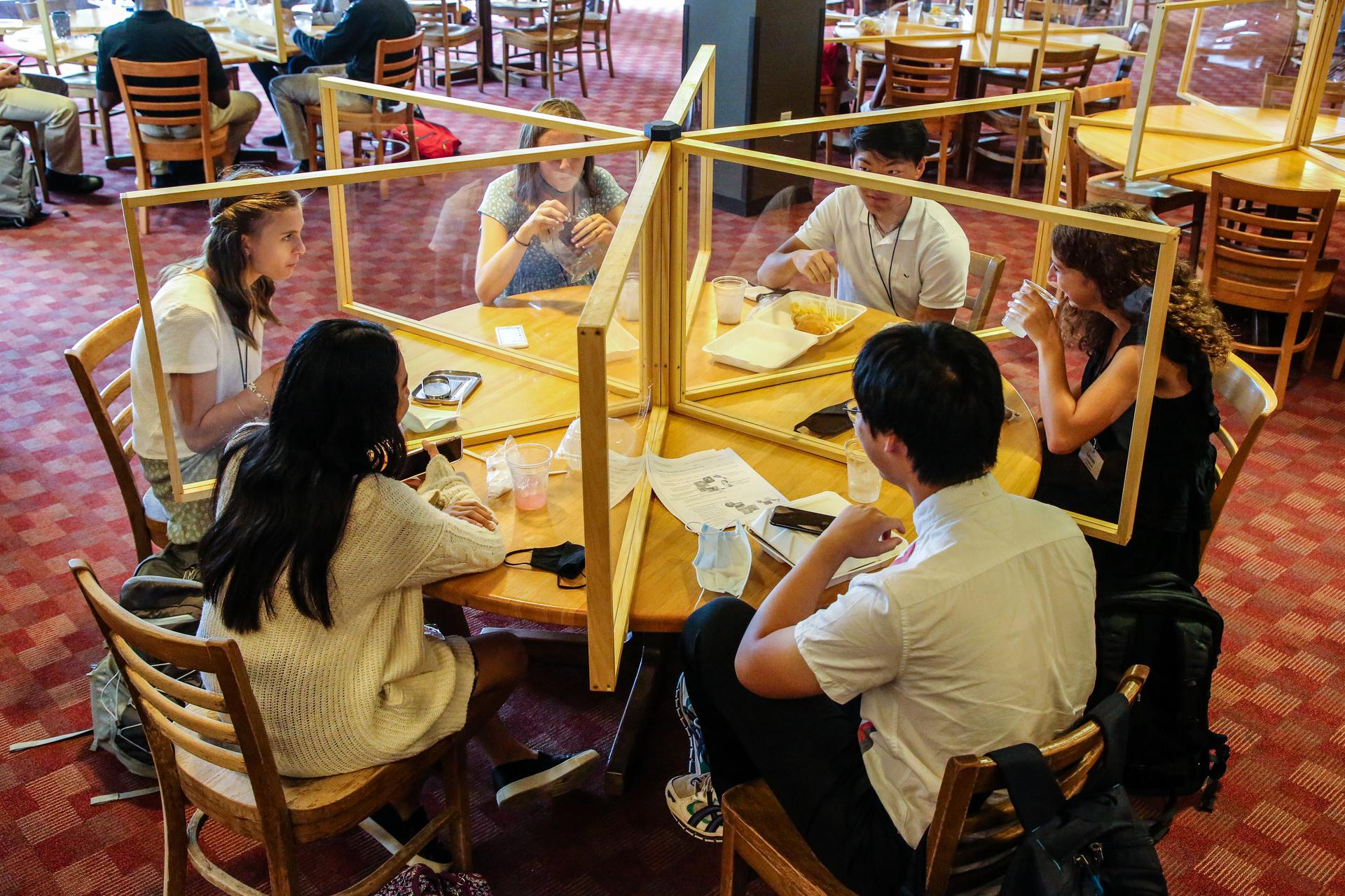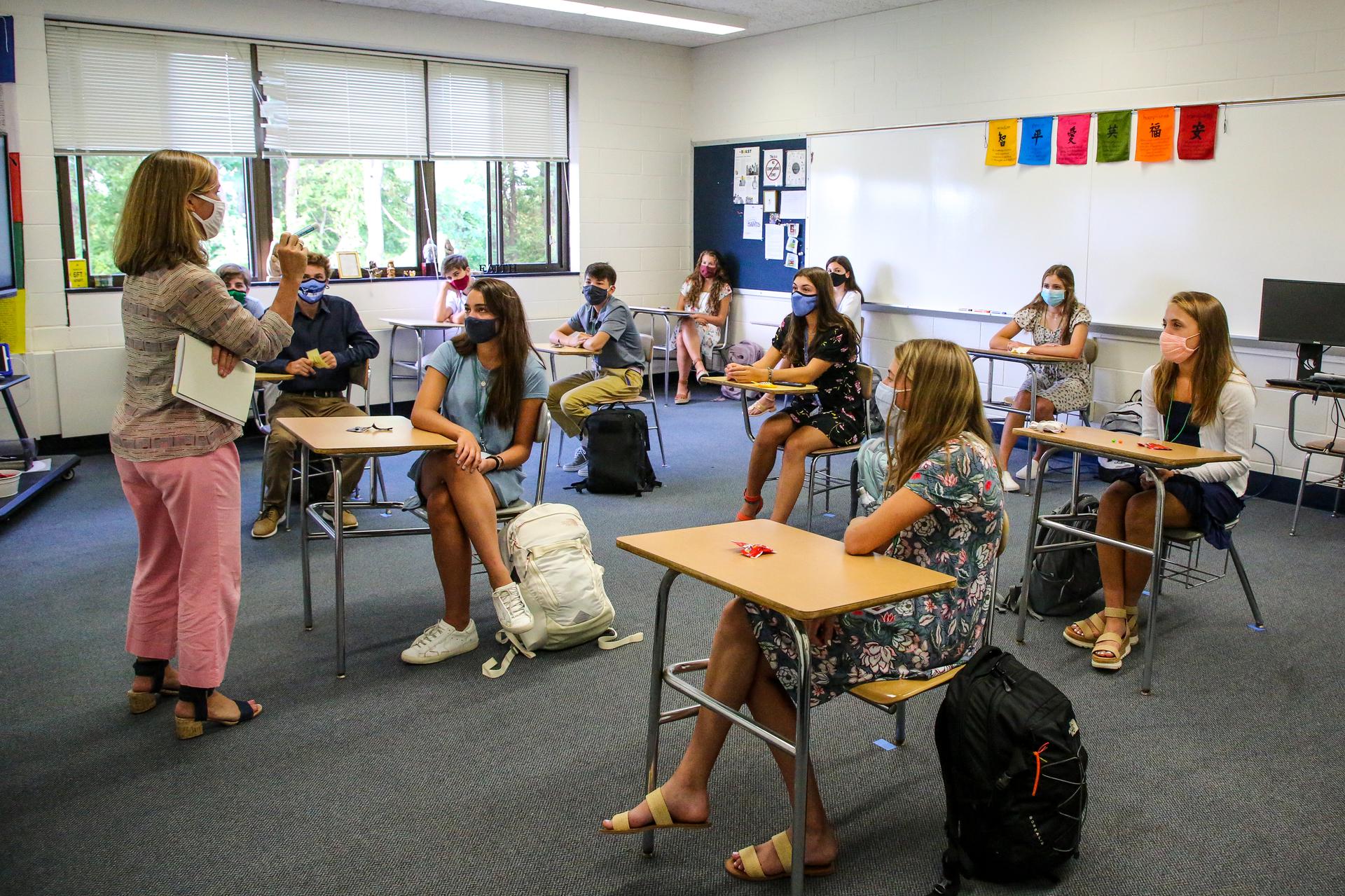 Pictured above: Students on the first day of classes, Monday, September 7, after six months away from the hilltop. To view the entire photo album, click here.
TOGETHER AGAIN, FINALLY!
Canterbury began in-person and remote classes on September 7th following several days of leadership training and orientation activities—and six long months away from the hilltop. The excitement was palpable as students reconnected with each other and with faculty, albeit virtually or six feet apart, and began the new school year. Read more...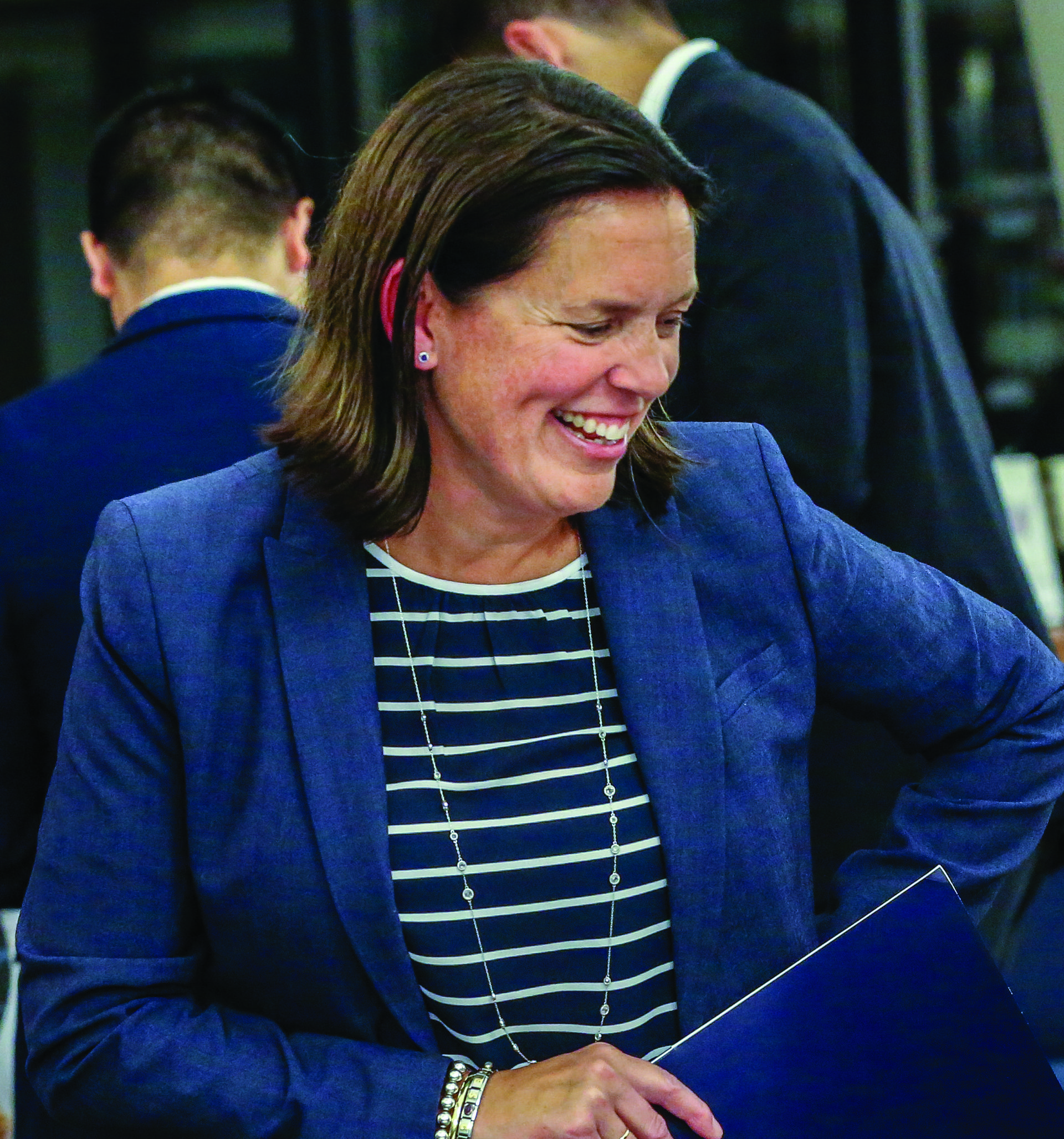 FROM HEAD OF SCHOOL RACHEL STONE P '23, '24
I cannot fully express how wonderful it feels to say: Welcome back.
Now that our campus has been bustling with students for two weeks (thank goodness), I must share my gratitude with, and for, our families. You have stood by our side throughout these past six months in partnership, determination, hope, and health. Read more...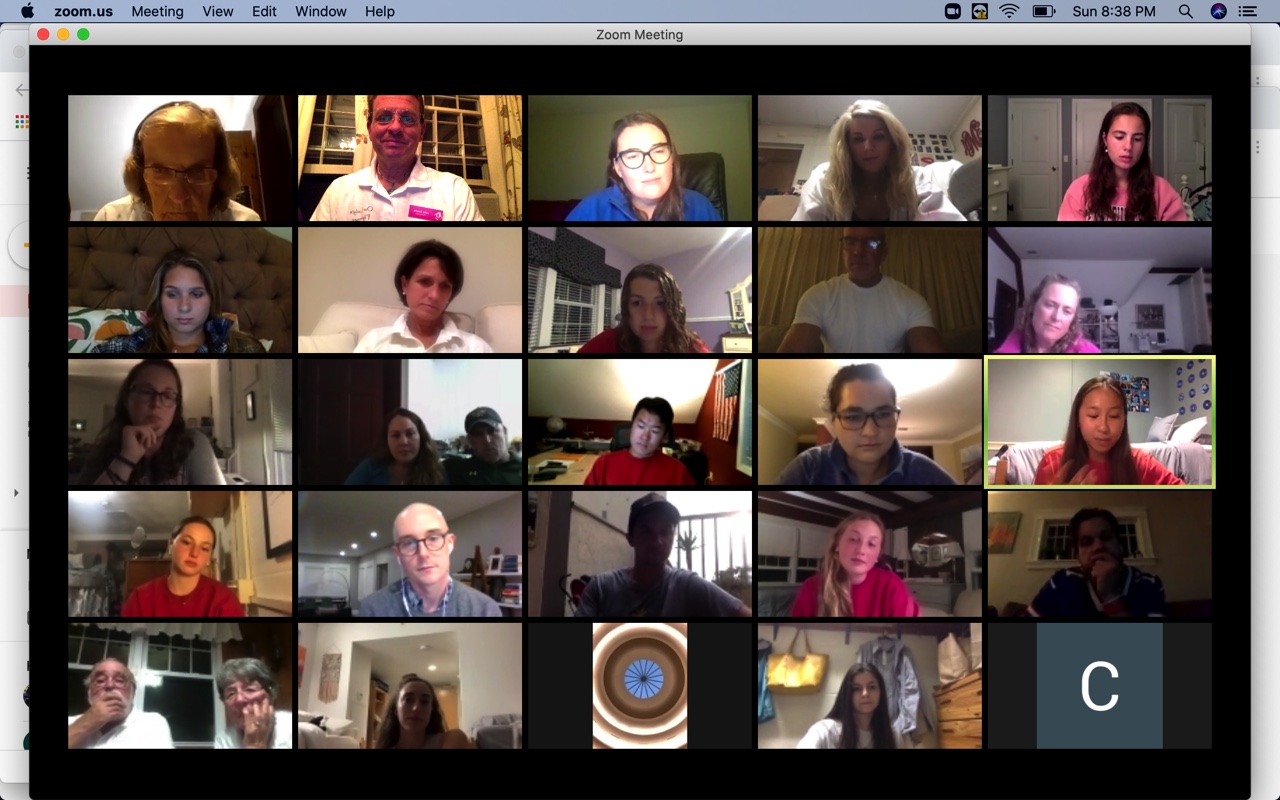 CANTERBURY HOSTS VIRTUAL OUR LADY'S PILGRIMAGE REUNION FOR CANTERBURY ALUMNI
On Sunday, September 13th, Canterbury hosted a virtual reunion for alumni who had participated in the Our Lady's Pilgrimage to Lourdes, France. In what would have been the trip's 27th year, close to 30 alumni connected over Zoom to reminisce and reflect on their experience on the pilgrimage over the years. Read more...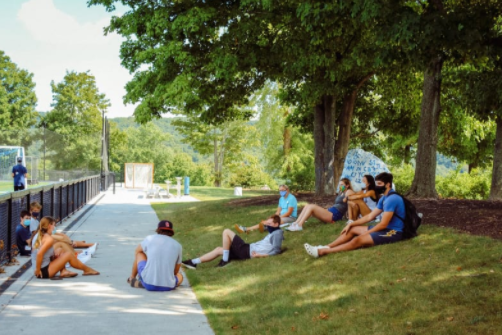 ANNUAL SIXTH FORM RETREAT REUNITES AND RECONNECTS SENIOR CLASS
The annual Sixth Form Retreat has become a tradition and rite of passage for the graduating class. On the first day of each school year, the class unites to reflect on their time at Canterbury, sets goals and intentions for the year, and, typically, enjoys a sit-down dinner with faculty that culminates in shaking each faculty member's hand. Read more...
CANTERBURY WELCOMES NEW FACULTY FOR 2020-2021 ACADEMIC YEAR
Canterbury welcomed four new faculty members in 2020 spanning several departments. We're thrilled to have their talents and passion at work on our hilltop. Read more…
CANTERBURY'S COMMITMENT TO DIVERSITY, EQUITY & INCLUSION
This summer, as our world—and our school—reacted to news of racism, inequity, anger, and sadness, faculty and administrators took a hard look at diversity, equity, and inclusion (DEI) at our School. Reflecting on the initiatives put in place in recent years and with a deeper understanding of our responsibility to ensure a welcoming, secure and healthy community for all, Canterbury reaffirmed its clear and unequivocal commitment to DEI work. Read more…
ATHLETICS HALL OF FAME CALL FOR NOMINATIONS
The Hall of Fame Selection Committee is actively seeking nominations for individuals who have made outstanding contributions to Canterbury athletics and have helped bring excellence and distinction to the School and its athletic program. These individuals will be considered for induction into Canterbury's Athletics Hall of Fame, which is displayed in the lobby of the Athletic Center.
2021 Inductees will be announced in early January 2021. The sixth annual induction ceremony will take place in June 2021 during Alumni Weekend.
Nominations close on October 31, 2020. Click HERE for selection criteria and nomination form. Please be as detailed as possible and include supportive information such as statistics and links to backup documentation. Go Saints!
VIRTUAL ADMISSION OPEN HOUSES
OCTOBER 12 & NOVEMBER 14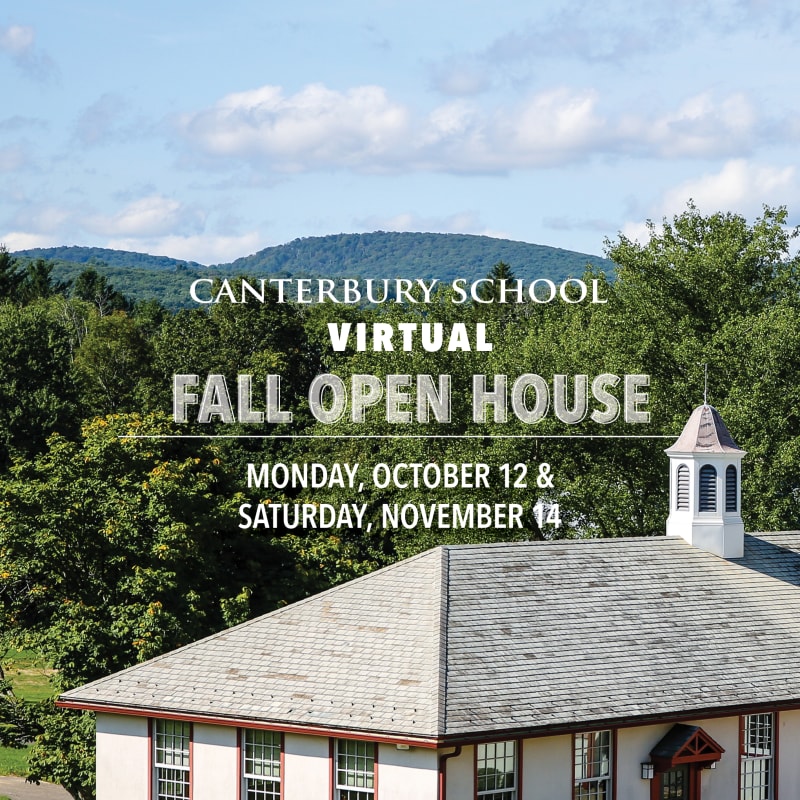 Do you know our next Saint? If you know a middle school student or a family who is interested in private high school, please encourage them to attend our Fall Virtual Open Houses on Monday, October 12 and Saturday, November 14. Spreading the word about your own personal experience at Canterbury is one of the most important ways you can support your alma mater! Thank you!
SHARE YOUR LATEST NEWS WITH US TODAY!
From marriages and births to new jobs and entrepreneurial endeavors,
Class Notes let the Canterbury community know what you have been up to!
Have you moved? Do you have a new email address or phone number? It is important to ensure that your contact information and preferences are up to date with our office in order to receive School communications such as Pallium, alumni e-newsletters, and all timely information regarding your upcoming Reunion celebration!
WANT TO GET INVOLVED IN PLANNING YOUR ALUMNI WEEKEND?
Please consider becoming a Class Ambassador and encourage your friends and classmates to attend. For more information, please do not hesitate to contact Director of Alumni Relations Kate Heslin '96, or (860) 210-3954.