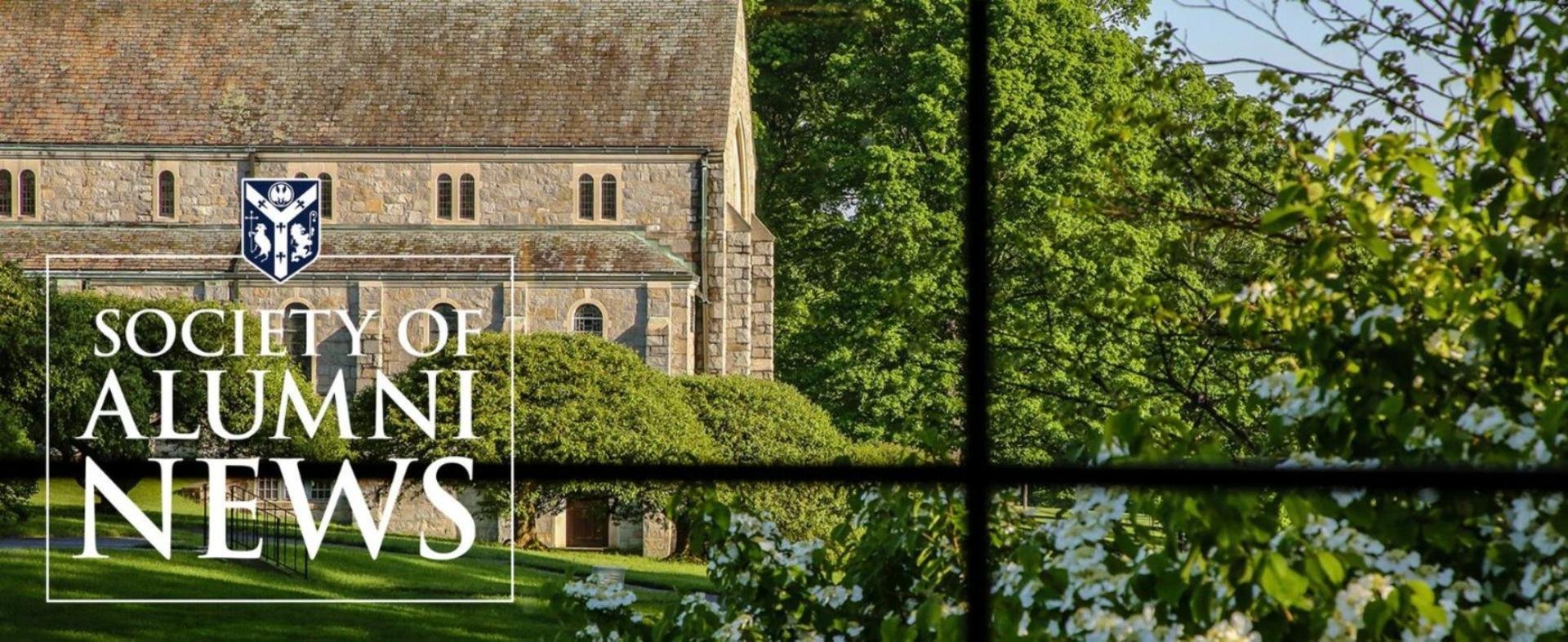 Happy Summer from the Society of Alumni!
I welcome the warm weather with open arms and am grateful that a long winter is finally over. The Executive Committee and I are thrilled to welcome the Class of 2021 to the Society of Alumni and can't wait to see what they will accomplish as the newest Saints alumni. Off the hilltop, we are gaining momentum with Canterbury Core, and we encourage you to sign up and stay connected with your fellow alumni across the globe. I am so excited to be making my way back to campus to enjoy Alumni Weekend on June 10-13! After being at home for so long, I'm excited to gather (safely) with my friends in my class and the classes around me. Canterbury will forever hold a special place in my heart, and whenever I get the opportunity to go back "home", I do!
Wishing you all a wonderful summer, and I look forward to connecting with you soon.
SOCIETY OF ALUMNI EXECUTIVE COMMITTEE
Patricia (Sordoni) Rasmussen '92
Co-President
William "Macy" Steers Jr. '04
Co-President
Victoria (Bundonis) Rovin '81
Vice President
B. Neil Boylan '79

Danielle (Enage) Conkling '97

Elizabeth L. Dooley '10

Jack Elsas '14

Thomas V. Esposito '80

A. Garvin Hammer '85

George E. Malhame '74

Christine M. Rubin '84

Peter J. Tucker '78

NEW TURF FIELD AND STADIUM PROJECT GETS UNDERWAY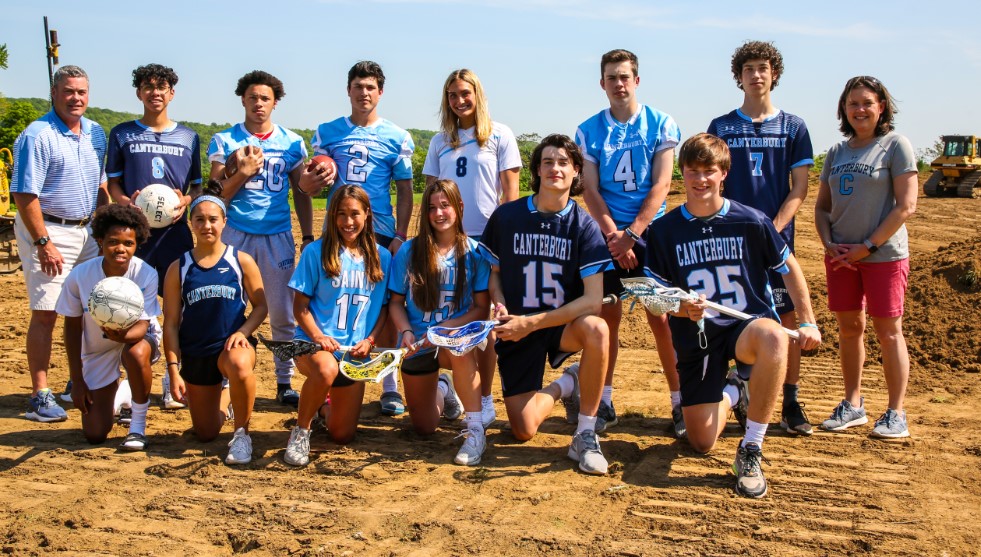 During the spring meeting of the Board of Trustees, Phase II of Canterbury's Athletic Field Master Plan was reapproved, with work scheduled to begin in May and plans for the Saints to compete in the completed facility in late fall 2021.
The project includes a second turf field on the east end of campus, adjacent to the site of Sheehy Family Field, the School's existing turf. The multi-purpose complex will feature a state-of-the-art, all-weather, all-season synthetic playing field lined for football and lacrosse; bleacher seating for 340 spectators; coaching boxes; and a six/eight-lane track. With the addition of stadium lights, multiple sports teams will have access to the new field for night games and more hours of practice and off-season conditioning. Read more.
Please be aware that Canterbury's Commencement ceremony taking place on Friday, May 28, 2021, is closed to the public. For the health and safety of our students, families, faculty, and staff, only the pre-approved guests of graduating students are permitted on campus. We know it is a long-standing tradition for recent graduates to return for the event, and please know that we look forward to welcoming you to the hilltop next year. Thank you for your understanding and cooperation.
INSIDE CANTERBURY | SATURDAY, JUNE 5, 2021 | 10:00 - 11:30 AM |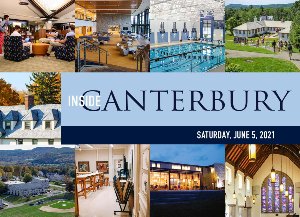 Do you know a prospective student who may be a good fit at Canterbury? The Admission office wants to welcome them to our hilltop to learn more about the Canterbury School experience.
Click here to read more about the day and for information about how to register.
Don't miss the chance to mark this special anniversary with your classmates. Alumni from selected classes (see below) are invited back to the hilltop for Alumni Weekend to reunite and reminisce with friends and reconnect with the place you once called home. Please note that we are also planning reunion events for other classes throughout summer and fall 2021. Stay tuned for more information.
Thursday, June 10
Welcome Back, Class of 2020
Friday, June 11
Reunion for Classes of
2000, 2001, 2005, 2006, 2010, 2011, 2015, 2016
Saturday, June 12
Reunion for Classes of
1975, 1976, 1980, 1981, 1985, 1986, 1990, 1991
Sunday, June 13
Alumni Memorial Mass
Details on the schedule, accommodations, registration, and how to make your reunion gift can be found here. If you have any questions or need more information, please reach out to Director of Alumni Relations Kate Heslin '96 at (860) 210-3954.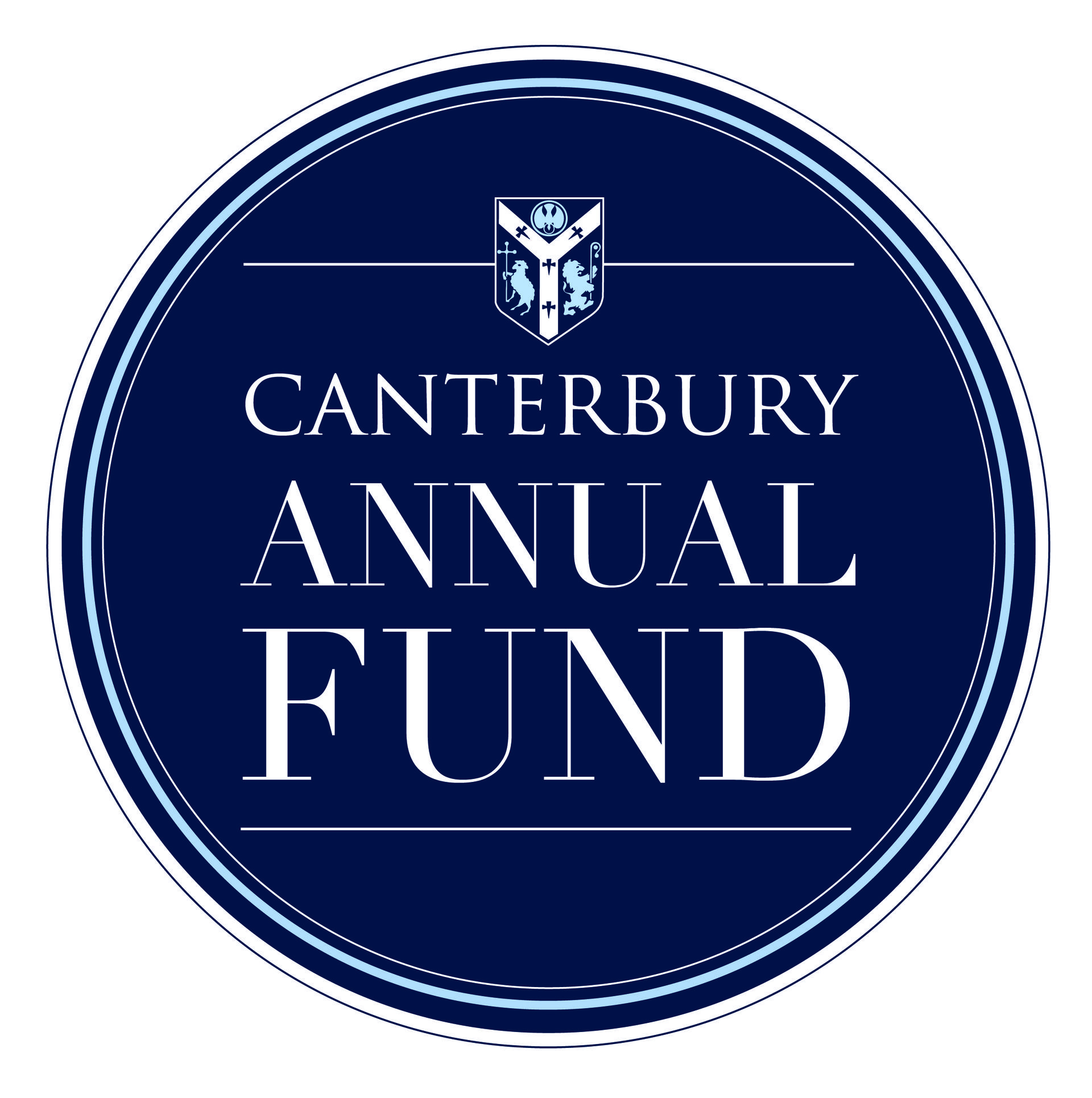 MAKE YOUR 2021 ANNUAL FUND
GIFT TODAY!
If you have not already made your 2021 gift to the Annual Fund, please consider a gift today in celebration of our students. Thank you for your generosity!
SOCIETY OF ALUMNI SPOTLIGHT SERIES:
Amy (McKenna) Omaña '86, P'19 '20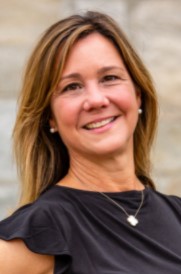 After receiving her bachelor's degree at Georgetown University, DC, in international relations, Amy '86 spent one year as a Georgetown University volunteer in Latin America before returning to New Milford.

Amy returned to Canterbury in 1991 as an Associate Director of Admissions, and joined the Theology
Department as a faculty member in the fall of 1995. Amy teaches Introduction to Morality, World
Religions, Topics in Contemporary Religions, and Mysticism.

She is married to Canterbury Director of International Travel Programs and Language Teacher, Julio Omaña. Their children, Abby '20 and Brendan '19, are both students at Georgetown University.
Click here to read about this month's spotlight on Amy (McKenna) Omaña '86, P'19 '20.
SPRING MUSICAL PRODUCTION LEAVES CAMPUS BUZZING
In a year where many artistic performances were still confined to virtual experiences, the Canterbury Theater Department was able to produce a live, safe, and fantastic musical to the delight of the community. The Canterbury spring musical is a highlight of the academic year, with terrific student performances and always-entertaining guest cameos.
Read more.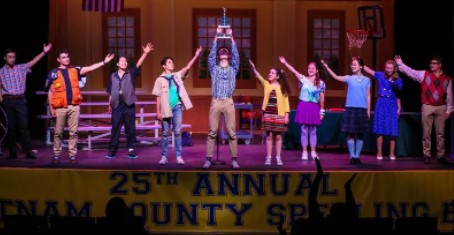 HITTING THE RIGHT NOTE: STUDENTS PRODUCE FULL-LENGTH MUSIC ALBUM
Taylor Swift was not the only one busy in the recording studio in 2020—several of Canterbury's student-musicians produced a full-length album of 18 songs in November. The collection includes songs performed by each of Canterbury's music ensembles and spans several genres, including jazz, pop, soul, folk, rock 'n' roll, and country. "COVID-19 prevented us from performing live in front of an audience during the fall, so this recording was an important component of the semester for music students," said Director of Music Dave Overthrow. "They set this tremendous goal and accomplished it!" Read more.
FOURTH FORM RETREAT BRINGS CLASS TOGETHER IN ACTS OF SERVICE
On Friday, April 30, the annual Fourth Form Retreat was held, with the focus of cultivating compassion and bringing awareness and action to issues that many people face, such as hunger and poverty. Read more.
AN INTERNATIONAL AFFAIR TO REMEMBER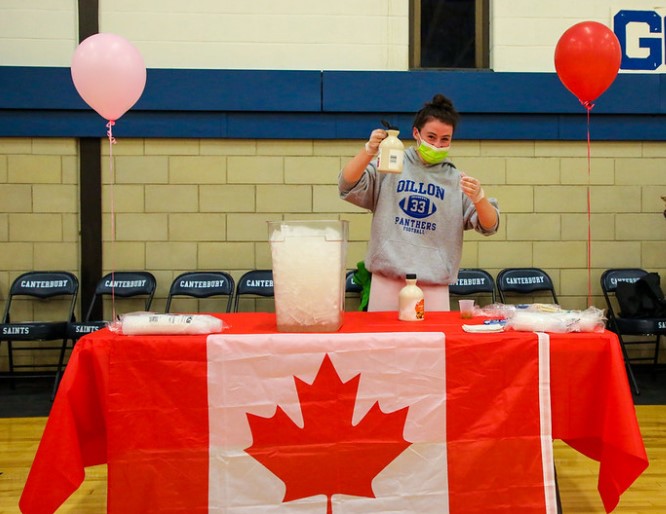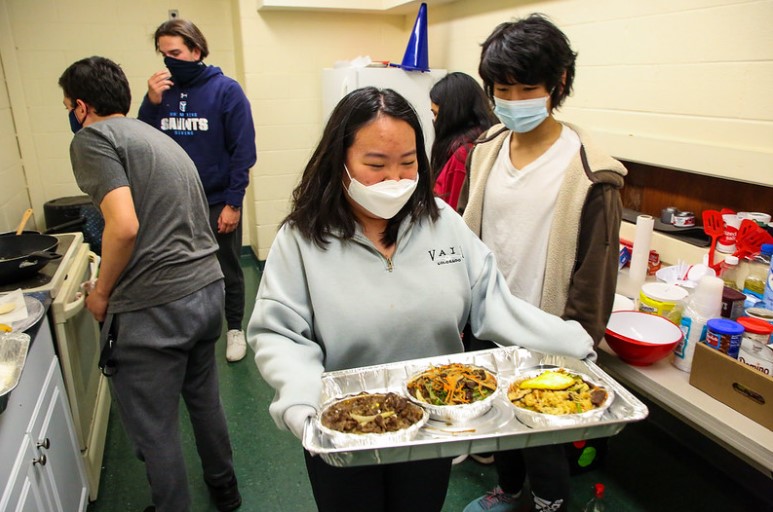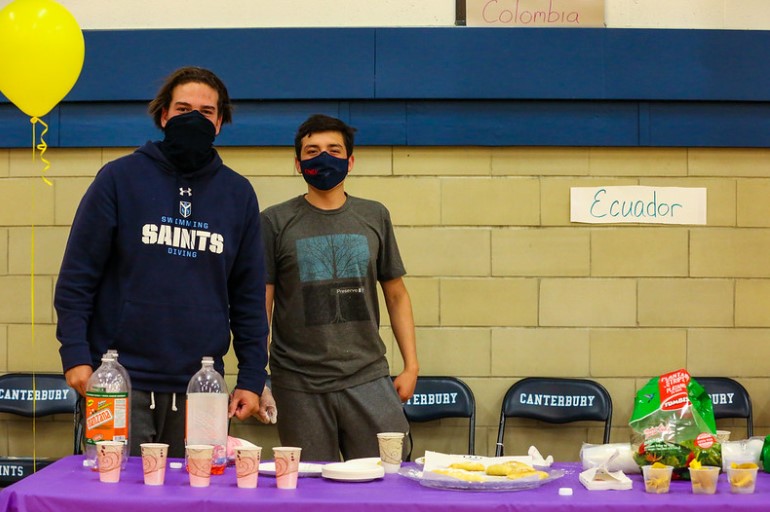 At the end of April, students celebrated the multicultural diversity of our School community with International Week. Organized by International Student Ambassadors—with help from French teacher and Director of International Students Tamara Devine and Assistant Dean of Students Elyse (EJ) Soifersmith—the week included several multicultural events to bring the community together and learn more about our students' heritage and identities.
Read more.
Back by popular demand! The Canterbury Club of New York is hosting another virtual Peloton ride! Don't miss out on connecting with other Saints and a little friendly competition too!
Please reach out to Director of Alumni Relations Kate Heslin '96 at (860) 210-3954 for more information.
Thursday, June 6
Time: 8:00 AM
30 Minute Hip Hop Ride with Kendall Toole
SHARE YOUR LATEST NEWS WITH US!
From marriages and births to new jobs and entrepreneurial endeavors, Class Notes let the Canterbury community know what you have been up to!